Make The World Fall For You On This New Year!!!
New Year is almost here! Who won't wish to shine and look gorgeous on this very special day? The professional makeup artists at Sakhi bring you some useful information that can make you look your best. From facial to skin care, we have it all. Here, take a look.
Hair Removal: Threading, Waxing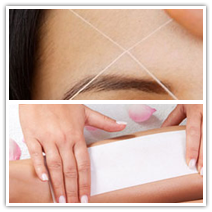 Threading: Shaped and neat eyebrow enhances one's looks. Threading out eyebrows, and removing off unwanted hair from upper lip, chin, bust, fore head makes one's face glow. Eyebrows can be shaped in many ways: sharp, semi round, arched and extended arch. Threading is the best way to get rid of unwanted hair rather than using harmful chemicals. It glows your face and gives it a shiny look.
Waxing: Another commonly used way to get rid of unwanted hair from your body. It is rather painful, but gives your skin a smooth and shiny feel. This is mostly used for underarm, torso, legs etc. Despite being painful the result is long lasting. It also removes off dead cells accumulated on the surface of your skin. Gigi wax is the perfect solution for hair removal.
Hair Care includes Highlights, Hair Color, Straightening, Scalp Therapy, Mehendi and Hair Cut.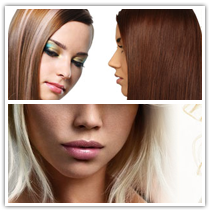 Highlights: Highlighting hair is these days the in fashion. Highlights are available in variety, so that one can get to choose from a wide range. With the right technique and customized color, highlight can lend your hair a very sophisticated look. Different techniques like stripping, frizzing etc. are used to highlight the hair. The result may vary from temporary to permanent, depending upon the wish of the client. The color chosen is usually 2-3 level lower than your base color. Colors also depend upon skin tone. If there are grey hairs, then first those are colored and then highlighted. This is called dual processing.
Hair Color:  Coloring your hair is a way to change your look. Changing hair color makes one look different. Here, hairs are colored from root to tip. This is different from highlighting. One can color one's hair from the root as the hair grows.
Mehendi for hair: If you don't want to color your hair, Mehendi or Henna is an apt option. It is also a good natural conditioner for your hair and also to cover gray strands. This type is these days called metallic dye. Henna is natural, contains no harmful chemicals that can bother your hair.
Hair Cuts: come in different styles. Depending upon your hair texture, facial features hair cuts are done.  Hair cut can give you a new fresh and stylish look. If you don't have time or patience for hair color, highlighting or henna, hair cut is the best option.
Scalp Therapy: A healthy scalp can lead to healthy hair. But this is often ignored. Scalp therapy can do wonders for your hair, letting it grow healthy, bouncy and beautiful. A scalp massage helps hair roots to get lubrication and nourishment and increase in their elasticity. It also prevents split ends, mends damaged hair and also lets roots get deeply conditioned.
Hair straightening: Hair straightening is also one of the hair treatments every woman opts out for. There are two types of hair treatment: Japanese Hair straightening and Keratin Hair Treatment. Japanese Hair treatment is used to straighten hair permanently. This treatment takes about 4-6 hours, depending upon the type and volume of the hair. One doesn't need to iron the hair after a wash, just let it air dry. Curly roots need to be retouched after 4-6 months. This kind is also known as thermal reconditioning.
Keratin Hair Treatment: is also known as the Brazilian, is a semi-permanent process for clients with curly, frizzy hair. Such treatment retains body of the hair and makes it more manageable, shiny. This lasts for 2-3 months and takes about 2-3 hours depending upon the volume of the hair. Even colored hair can undergo this treatment.
Facial can be done to enhance your look. Facial helps to remove dead cells, clears your face, lighten dark circles, wrinkles, patchy skin etc. It gives you a fresh, clean, radiant look leaving your face rejuvenated and rehydrated.
Teenagers facial are recommended to prevent excessive oil and build up body pores. Acne facial treatments are recommended for young adults aged between 13-19.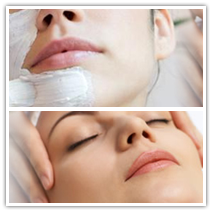 Anti Tanning: also comes under facial treatment. Over exposure of skin to sunrays can cause darkening of skin or tanning. This treatment helps skin to glow and gain back the beauty.
Body Piercing is also common these days. Women love to wear different types of bands on their skin, ears, nose, belly button and eyebrows. Although ear and nose piercing is common practice in Indian culture, these days women prefer to pierce ear on different parts of the ear too. This gives you a little jazzy and stylish look.
So what are you waiting for? Go for whatever style you prefer, and let your beauty rise on this New Year's party!
Happy New Year…!!!